|
Last night's dinner crusted to the table. The dishes are abundant in the sink. The coffee is 3 days old. There is laundry piled high in front of your desk and, you must be kidding...the plants aren't watered yet this month?  Yep.  We know what that's like.
To keep on top of house cleaning, grab one of these apps.  We've included both iPhone and Android apps, as well as a couple that can be accessed through the web. They range from completely free to $4.99, and we've categorized each app according to what kind of people might like it. Here is a list of best cleaning apps! Look for the one that might work for you!
House Clean
Free on Android
Good for: People Who Like Lists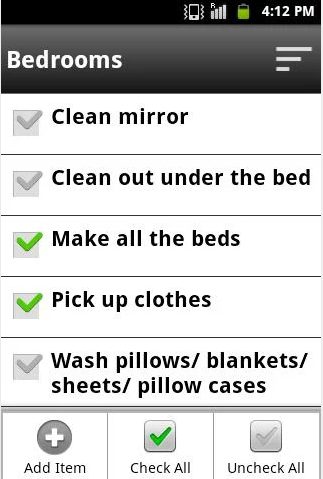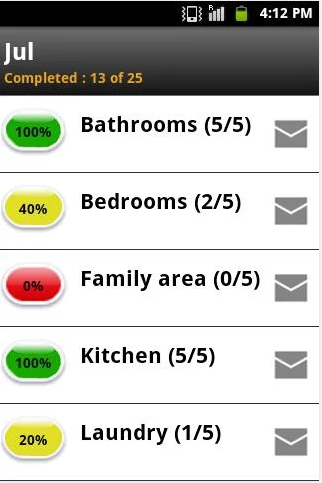 Plain and simple, this app is a house cleaning list with customizable items. Sorted into categories like "Kitchen" and "Laundry," you can add custom steps to each list, and then see your percent completion as your tick them off. House Clean comes loaded with a master list of tasks to choose from, and allows you to add, edit, delete, copy, and rearrange items. It's not a very pretty app, but very functional, with optional due dates and reminders attached to items. (It's virtually identical to another popular app - House Cleaning List - but unlike the other one, this is free!)
HomeRoutines
$4.99 on iPhone
Good for: People Who Like Lists, People Who Want A Regular Routine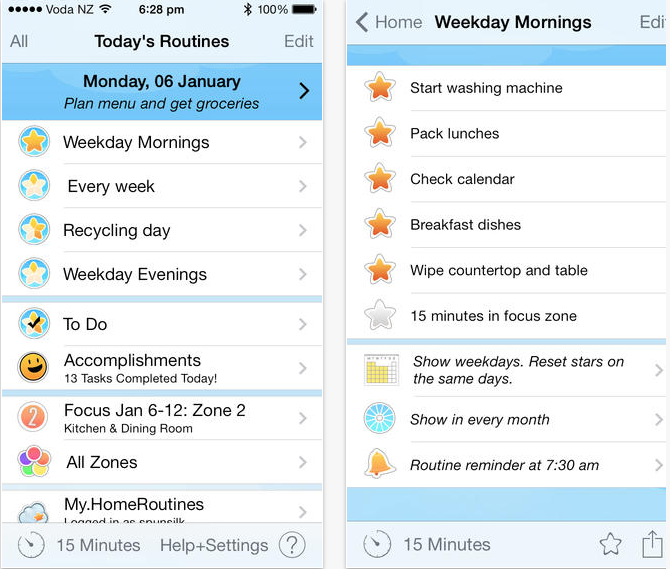 This app organizes cleaning tasks into particular times of day, so that you can start to work them into your routine. For instance, you've got a list specifically for "Weekday Mornings." At $4.99, the app is rather pricey, but the upside is that the app will help you build and enforce a cleaning routine. Start fresh each day with automatic reset, customize your routines to fit your lifestyle, and time yourself with its built-in timer. If you need help maintaing a routine and don't like the style of Unfilth Your Habitat (see below), this app might work for you.
BrightNest
Free on iPhone
Good for: People Who Are Already Semi-Organized, People Interested in DIY Projects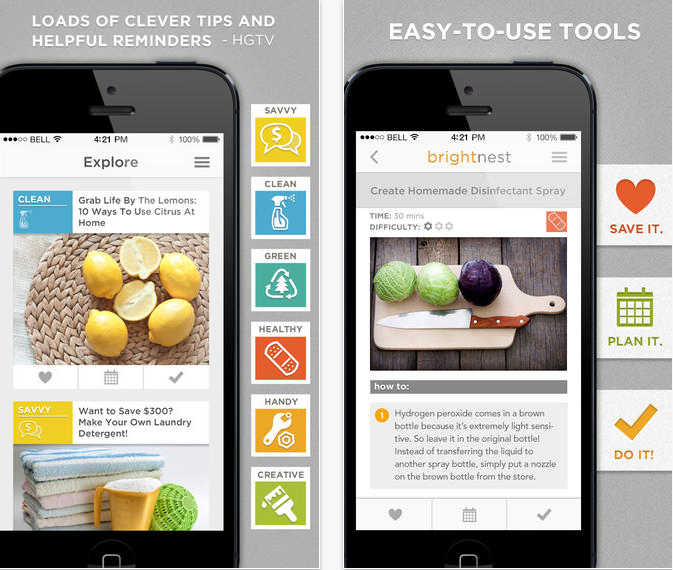 With its bright, clean layout, BrightNest is certainly the most beautiful of cleaning apps available. The app does force you to create an account, and many of the cooler features (custom advice for house maintenance based on your climate) depend on giving them information like your address. If that doesn't bother you, though, this free app includes: • a profile with your unique, personal goals, • customized tips to reach those goals, • the ability to schedule tasks to get things done, • and reminders to get those things done in case you forget. Plus, it features thousands of articles about house cleaning, organizing, and design projects, so that you can look up DIY instructions right from the app.
SimplyUs
Free on iPhone
Good for: Couples, Roommates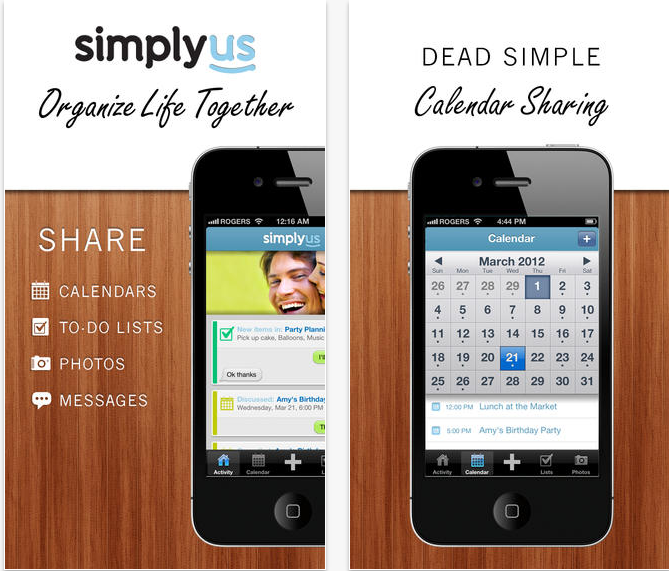 SimplyUs is built for couples who want to stay organized together. You can manage schedules, grocery lists, to-dos, chores, reminders, and family visits, among other things. As a private place to share memories, messages, calendars and more, this app is useful for couples in a variety of ways: reviewers say they use it to manage joint tasks like kids' appointments and date night. The best part, though? You can sync it with your existing calendars in Google, Hotmail, Outlook, and more, so you don't have to start from zero.
HabitRPG
Free on iPhone, Android, Website App
Good for: Teenagers, College Students, People Who Like Video Games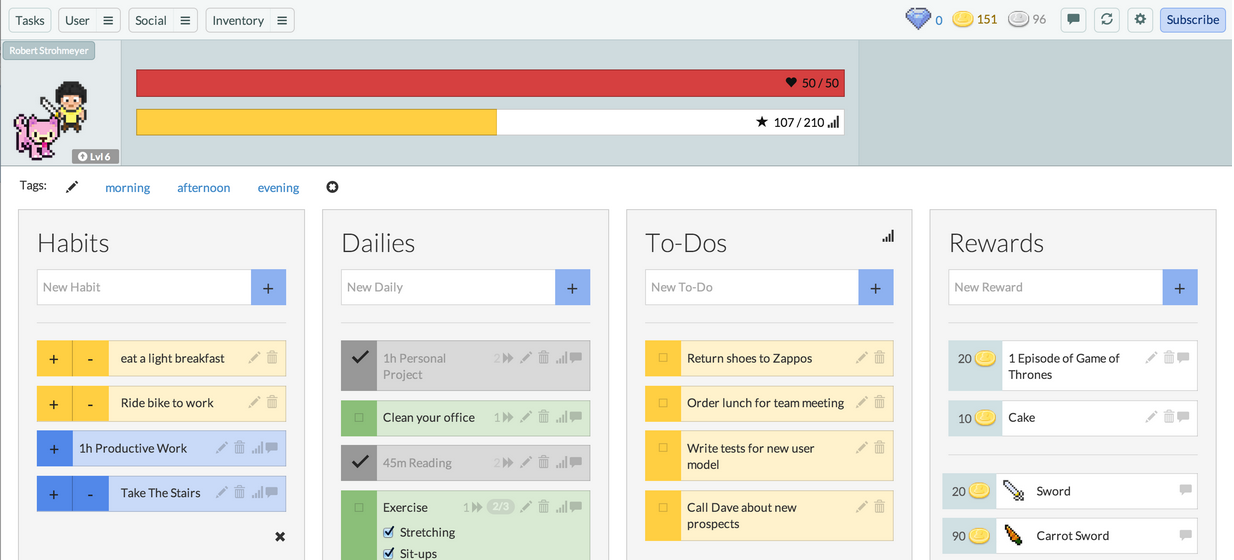 Put simply, HabitRPG turns to-do lists into a role playing game, where players can gain experience points and gold with every task they complete! Intended to help people change their habits over time, this app is for more than just cleaning tasks. HabitRPG's cult of dedicated players use this app as motivation to study, clean, exercise, work, and more. As you keep using the app over time, you can "level up," buy armor for your personalized character, embark on "quests," and nurture adorable pets. This app has optional community aspects, in which users can chat and team up to motivate each other. For instance, players can join a groups focused on specific goals, such as keeping bedrooms clean or studying for the SATs. (Be aware: teens may need reminders about safely communicating with strangers on the internet!)  Currently the phone apps are rather bare-bones versions of the more complex website app, but at its heart, this app is a to-do list with an excellent, game-like motivation system.
Unfilth Your Habitat
Good for: College students, People Who Hate Cleaning, People Who Don't Know Where to Start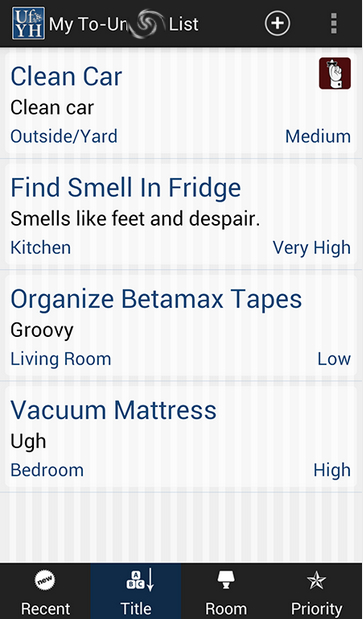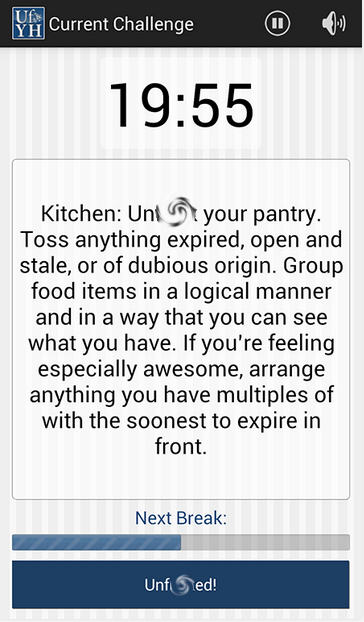 If you've ever felt that Martha Stewart would burst into tears at the sight of your home, this app might be for you. The tagline is "Terrifying motivation for lazy people with messy homes," and the app lives up to that promise with its drillmaster-esque reminders. Despite the hardened exterior, though, this app features practical, non-judgmental advice for people who are trying to break years of bad habits. For example, UFYH recommends working in short bursts of 20 minutes with 10 minute breaks in-between. If you don't want to buy the app, you can follow the blog on Twitter or Tumblr. The Tumblr in particular features motivating before-and-after photos from ordinary people with ordinary, messy homes--not homes styled by professional designers. Be aware: this app uses a lot of profanity. ("Unfilth" is the censored version of the app's real name: in the actual app, it uses a different f-word). So it isn't for everyone. But if you think you could benefit from messages such as, "THIS IS NOT DIFFICULT, YOU'RE JUST KIND OF LAZY," give it a try.
Need more cleaning help? Check out these articles:
Tips to Improve the Smell of Your Home
A Guide to Cleaning All of Your Kitchen Appliances