Save Your Floors from Summer Dirt and Mud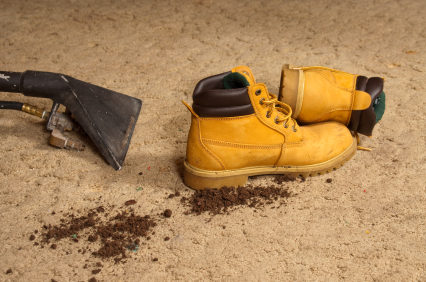 Summer is here! There's no better time – at least in most parts of the country – to get out of the house and enjoy the great outdoors. The weather is warm, the snow has melted, and you can enjoy all of the activities the summer months have to offer: long walks around your neighborhood or along a nearby beach, hikes on local trails, swimming in a nearby watering hole, soccer, running, gardening, and much more. What we felt every year as kids still holds true – there's no season quite like summer!
But what happens when you enjoy the great outdoors and then return home? You bring dirt, mud, outdoor allergens, and other contaminants back inside. These substances can be present on your clothing, your footwear (or bare feet), and even in your hair or on pets. So along with all of that summer fun, you can find yourself facing some major indoor home cleaning challenges.
Thankfully, as always, it's COIT to the rescue! Whether you're trying to maintain a clean home or have to keep outdoor dirt and mud out of your office, COIT offers a wide variety of residential and commercial cleaning services designed to make your job easier. One of the things we're most proud of as a company is that our wide array of services sets us apart from our competition. COIT is about much more than Carpet Cleaning!  
If you have wood floors instead of carpets, for example, a growing number of COIT locations now offer a specialized Wood Floor Cleaning Service. Our Wood Floor Care commercial-grade cleaners eliminate dirt, dust, oil and other contaminants that can weaken wood flooring and eventually lead to costly repairs. The process includes debris removal, COIT's Wood Floor Care & Intensive Floor Treatment, detailed hand cleaning, a second scrub, and your choice of top coat applications. Call 1-800-FOR-COIT to learn if COIT's Wood Floor Cleaning Service is available in your area.
Furniture is a big draw for summer dirt, mud, and allergens. (You know those moments when your wet, muddy dog heads straight for the couch!) COIT's Upholstery Cleaning Service makes use of the industry's latest technologies to ensure you're satisfied with the results. Our professional technicians use equipment that can clean virtually any type of upholstery, including Jacquard, velvet, and Haitian cotton.
If you keep your windows open during summer, you know that draperies and blinds are notorious for collecting dust and outdoor allergens. COIT offers both Drapery and Blind Cleaning services. In fact, drapery cleaning is COIT's signature service - we literally invented the process! Our exclusive process removes dust, smoke, pollen, odors and soil, yet guarantees that your draperies will be returned with parallel pleats, even hems, and no shrinkage. 
If you're concerned about your indoor air quality, we offer an Air Duct Cleaning Service that will minimize the presence of mold spores, allergens, and other contaminants from your HVAC system so you and your family can enjoy cleaner indoor air. This service might also improve the efficiency of your system, lowering your utility bills.
Learn more about the many services COIT offers for both homes and businesses by perusing our website. Our business Cleaning and Restoration Services, for example, include everything from Carpet and Area Rug Cleaning to Wall Washing, Flame Proofing, and a Planned Response Program that will help you respond quickly in the case of a natural disaster that threatens your business. 
For more information or to schedule your next appointment, call 1-800-FOR COIT today. We're here to help you keep your indoor environment clean while you enjoy the outdoors this summer!