How to Deep Green Clean Your Carpets
So Fresh And So Clean
The best thing you can do for your house and health is to switch to green cleaning products. Cleaning supplies that are loaded with toxic chemicals can take a toll on your health as well as children's and pets'. The most natural cleaners you can use are vinegar, lemons, borax, baking soda, hydrogen peroxide, liquid Castile soap, and essential oils for smell. Switch to an easier and healthier way of cleaning. Your body and house will thank you!

Cleaning products that shouldn't be mixed:
It's surprising how many people are unaware that certain products shouldn't be combined due to the toxicity they produce. Many products don't have ammonia anymore, but it's a good idea to make sure. Some examples of products you shouldn't mix are:
● Vinegar and bleach
● Ammonia and bleach
● Rubbing alcohol and bleach
● Hydrogen peroxide and vinegar
Steps to a clean, green carpet:
Vacuum and vacuum some more. Makesure to get all the corners. This ensures that you're starting on a somewhat cleaner surface.
Decide which cleaner you are going to use. If you are on a budget, white/apple cider vinegar works wonders and is a non-toxic option. Vinegar works just as well, if not better, than store-bought brands such as bleaches that are loaded with harsh chemicals.
For stains and spots, make an all-natural cleaning paste. You probably have most of the ingredients around your house. Mix ¼ cup Borax and ¼ cup vinegar to make a paste that you can apply to the stain. It's best to use a scrubber such as an old dishwashing scrubber to mix the paste into the carpet. Let sit and vacuum when dry.
Renting a steam cleaner machine is an easy way to ensure that the carpet gets clean. This also provides the option of using chemicals or not. If you want to go chemical-free, very hot water will do the trick after following steps 1-3.
If you have time, go over the carpet twice to get a more thorough clean.
Wait until the carpet is completely dry to put back furniture. Using fans can help speed up the process.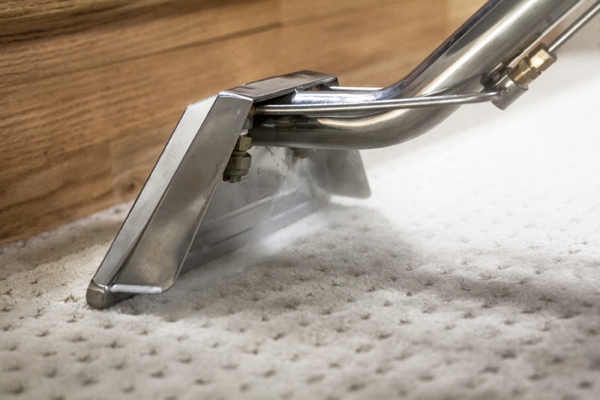 Feel great knowing your house is clean and your health is in good hands. Need more stain fighting help?  See the COIT Spot Center for dozens of stain fighting tips!