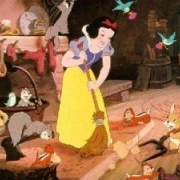 It might not be easy to find fun ways to clean your room or your entire home, but it's relatively easy to find eco-friendly cleaning solutions. And a great way to celebrate Earth Month is to not only get motivated to clean, but to get motivated to clean "green." Even if you're already deep into the annual spring cleaning task, it's never too late to switch to green cleaning practices. We have some ideas to help get started.
Vinegar: We've mentioned white vinegar often on this blog in the context of inexpensive and eco-friendly cleaning. In fact, TheNewHomemaker.com calls vinegar "(Almost) the Only Cleaner You'll Ever Need." Mixing half water/half vinegar in a spray bottle, the site notes (and keeping a separate bottle with pure vinegar) is a low-cost way to approach numerous cleaning tasks effectively. Vinegar, when used with various mixtures and methods spelled out on the site can:
Be used as a deodorizer (just place a bowl in a room overnight)
Remove stickers from surfaces such as furniture
Help remove spots on carpets
Clean windows
Clean vinyl flooring and other no-wax floors
Clean silver, pewter, copper, or brass
Clean wood paneling, with the help of some olive oil
Remove corrosion or chemical build-up from showerheads
Remove toilet bowl stains
Remove soap build-up from faucets
Clean shower walls and curtains and help prevent mildew
Keep ants out of the kitchen
Deodorize garbage disposals and bins
Help unclog a clogged drain
Remove food scents from hands after meal prep
Clean wooden cutting boards
Clean countertops, appliances, and other kitchen surfaces
Clean the microwave oven
Remove coffee or tea stains from china
Assist with a variety of laundry tasks
Keep cats off windowsills (though we wonder why you'd want to do that) or other surfaces
Remove skunk odors from pets that have had a run-in
Even prevent dogs from scratching their ears!
Let's face it, vinegar is simply a wonder cleaner – the fact that it's inexpensive, simply to get, and eco-friendly make it our favorite solution for happy home cleaning.
Baking Soda (Sodium Bicarbonate): Baking soda has its own green cleaning fans, and TheNewHomemaker.com makes a strong case for this non-toxic, multi-purpose, cleaning agent also. Most of us think immediately of one of the most common uses for baking soda: an open box in the refrigerator makes a great deodorizer. But from putting out grease fires to cleaning silver, removing scuff marks, and cleaning hairbrushes and combs, you'll find plenty of other uses for this cheap, eco-friendly product.
EarthEasy.com offers a list of "green" substitutions for chemical cleaning products. In addition to white vinegar and baking soda, their list includes:
Lemon, which is effective against most house-hold bacteria
Borax, (sodium borate) which cleans, deodorizes, disinfects, softens water, and cleans wallpaper, painted walls and floors
Corn starch, which can be used to clean windows or polish furniture
Citrus solvent, which can clean paintbrushes, oil, grease, and some stains. (Note: Citrus solvent may cause skin, lung or eye irritations for people with multiple chemical sensitivities.)
An article at Boston.com notes that toothpaste works well for polishing silver, while a combination of lemon juice and salt not only cleans silver but can also work on brass and copper. The article also explains that many stores sell "100% Natural Cleaning Products," but always read labels carefully so you understand why the manufacturer is making this claim.
If you're interested in mixing your own green cleaners, look no further than this previous post on our own blog, which provides recipes for everything from bathroom and window cleaning solutions to cleaners for the grill and oven, and solutions that will fight mold.
So when you want to get motivated to clean "green," remember that eco-friendly cleaning is a positive way to help preserve the planet and contribute to a healthier environment for your family in your home. So go crazy, and go green. Here's to both Happy Home Cleaning and a Happy Earth Day!
Spring cleaning can be daunting, but if you set aside cleaning time over a number of weeks you can get the job done while minimizing any disruption to your regular schedule. And remember, COIT is available at 1-800-FOR-COIT to help with the tasks that require professional attention. 
Here are more posts on Spring Cleaning: 
Spring cleaning in Small doses