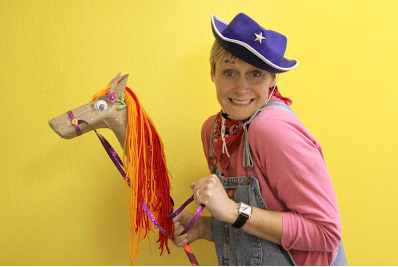 Photo: Sophie from Sophie-World.com
Have the kids been cooped up inside too long?  Want to help them unwind and keep busy while the winter cools?  These 10 indoor winter craft ideas are fun for the whole family, and they double up as great ways to recycle old items found around the house. 
A Hula Hoop Rug: Turn the family's old T-shirts into a homemade rug that will add a splash of color to any child's room.  Cut the shirts into 11 one-inch wide warp loops and strips that are at least 50 wider weft loops. Loops are woven around an old hula-hoop for a beautiful, colorful homemade rug.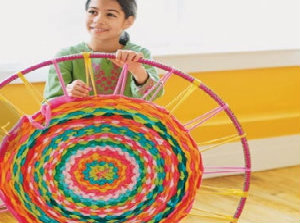 From a Pool Noodle to a Hobby Horse:  To make this playful broomstick hobby horse, cut a 12" length from an old pool noodle with a 90% notch out of the center of the noodle.  Fold the noodle in half and use duct tape to hold your horse head in place before sliding onto a broomstick. The kids can gallop and giggle along with their new friend. 
Old Grocery Bags Jump Rope:  Cut plastic grocery bags open into long, single large pieces, removing the handles and extra pieces. Tape six long strips together from individual bags for the length of the jump rope.  Braid two weaves after affixing the strips to the back of a chair.  Twist the two braids together and use duct tape to create sturdy handles.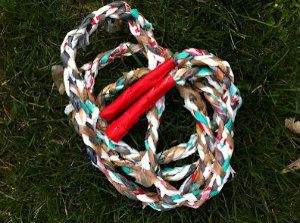 Spoon Puppets: Use old wooden spoons to create puppets by painting faces on the tops and dressing the handles with colorful thread or scraps of fabric.  Increase the fun with googly eyes, pom poms, and hosting a puppet show! 
Poppy Seed Cat: Have a bag of old poppy seeds in the cupboard? Cut a colored piece of cardboard, draw the shape of a cat (or any animal of your choice) with a black marker. Use lima beans and split peas to make the face and paws first, then fill in the shape of the cat with thick, strong glue. Sprinkle poppy seeds over the glue for the body of the cat, and shake off excess seeds. When the cat is dry, glue a small bow at the neck and paint whiskers and eyes on with a marker.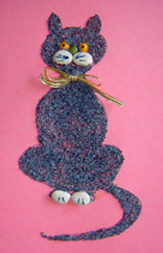 Create an Animal Mobile: Trace and cut an animal shape from construction paper to use as a template. (We like fish.)  Use the template to make two more copies.  Use paint or markers to decorate the animals.  Hang them from a clothes hanger with pieces of string of different lengths. Loop the top of the hanger so you can hang your mobile where it can turn freely. Watch the animals dance ––or the fish swim ––in the air!
Slinky Bird Feeder: Have an old slinky from your childhood toy box? Turn it into a practical bird feeder! Secure the slinky in a circle around wire from an old clothes hanger.  Fill the feeder with peanuts or large feed for bigger birds. 
Animal Picture Frames: You know those tiny toy plastic animals that lie around your child's room? If they have four legs or a solid base, slice them in half and glue a magnet in each half (create a small hole for the magnet if necessary). Place a photo between the two halves and allow the magnets to connect, and voila! An animal photo frame. 
Make a Toilet Roll Snake: Use acrylic paint to color six bathroom tissue rolls (decorate as you like) and cut the end of the tubes into points. Cut holes into the points and line up so that the holes overlap, using pipe cleaners to secure one roll to the next. Add googly eyes and use a red ribbon to create the tongue. Your child will love their new pet! 
Plastic Toy Planter: Take an old, hollow plastic dinosaur or other animal toy and cut a hole in the top.  Fill with dirt and use as a fun planter for your kid's room or to add quirky character to any room in the house!