Photo: Getty Images
When you're watching television or lying in bed, do you know what you're breathing in?  According to the United States Environmental Protection Agency, the air inside our homes is 2 to 5 times more likely than outside air to be polluted. Some common and unexpected indoor air pollutants include:
Air purifiers,
The kitchen stove,
And many store-bought cleaning products.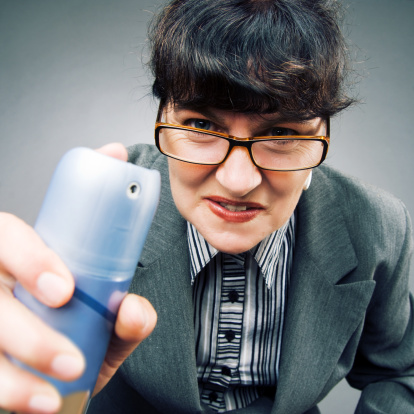 Photo: Getty Images
There are a number of methods to improve the smell of your home, and here's how they stack up against each other. Here is a list on how to make your house smell good: 
The Money-Savers
Expensive air fresheners and purifiers do less than what we pay for.  Oftentimes they merely mask the problem with cloudy chemicals rather than eliminating it.  Attack stubborn smells with these inexpensive air-freshening ideas.
Photo: Getty Images
When you need a gentle, yet powerful clean, do not reach for a chemically enhanced air freshener. Instead, keep your air non-toxic with a mixture of pure essential oil, white vinegar, and water.  Combine 15 drops essential oil, ½ cup white vinegar, and 1 and ½ cup water in a small diffuser bottle.  To concentrate the smell, add more essential oil.  
In a spray bottle, combine 4 tablespoon of a natural fabric softener and enough water to fill the bottle.  This is a great Febreeze alternative to spray around the house.  
Do you want your home to smell like freshly baked cookies?  Pour 2 to 3 tablespoon of vanilla into a coffee mug.  Place the mug on the oven and set it to 300 degrees.  Let the mug sit for an hour and voila! Your home will smell as sugary as the local bakery. 
Create a homemade scented jar for a mighty air freshener.  Place baking soda and 8 drops of essential oil in the jar.  Cover with a piece of cheesecloth, and tightly secure the lid. 
The Mood-Lifters 
Certain smells are scientifically proven to enhance our moods.   These sweet-smelling scents are guaranteed to bust stinky odors, all while making you smile.
Rose,
Citrus,
Lavender, 
Peppermint,
And the sea.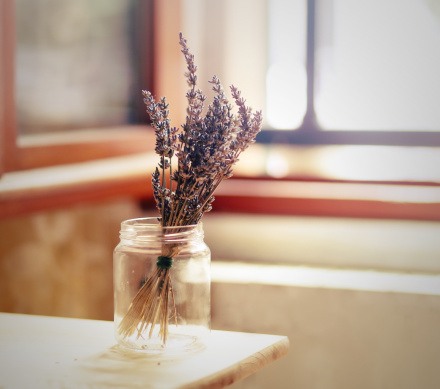 Photo: Getty Images
Now that you have the money-saving, odor-clearing ideas, consider these happy scents when choosing pure essential oils and fabric softeners for your homemade air fresheners.  You can also consider purchasing like-scented candles, or make your own potpourri.  
To make your own stovetop potpourri that'll create nostalgia of winter comforts, combine
1 orange peel,
½ cup cranberries,
1 tablespoon cloves,
3 sticks cinnamon,
And nutmeg.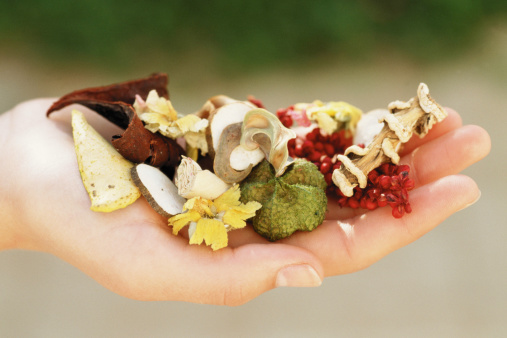 Photo: Getty Images
Put the ingredients in a saucepan and fill it with water.  Place the pan on the stove's smallest burner at the lowest setting.  The potpourri will brown after a while, and that's when you know it's complete (aside from its incredible aroma).  Refill the water as needed, and do not let it evaporate completely.  Use the mood-lifting smells to create your own optimistic potpourri bundle.   
The Two-For-Ones 
Just as stovetop potpourri makes an excellent year round gift idea for your family and friends, the following double up on their odor-clearing superpowers as well: 
Dryer sheets.  Avoid buying expensive and unnecessary car air fresheners and place dryer sheets beneath the car's seats instead.  You can also clear out the smell of fetid shoes by placing a dryer sheet inside each offender.  
Have your vents cleaned. A air duct cleaning is guaranteed to lessen your home's air pollution.  Overtime, dust mites, pollen, allergens, and other dirt and debris gather in your air ducts and circulate through the air.   When you have your ventilation system cleaned, you breath healthier air, have a cleaner home longer, and your HVAC systems will operate smoother.  
Install a kitchen ventilation system.  When you cook without a kitchen ventilation system, dangerous by-products of cooking escape into the air.  These by-products can include smoke, grease, and odors.  Clear the air with an exhaust fan or range hood over your stovetop.  
A eucalyptus bunch.  Eucalyptus, with success, releases a consistent minty, pine scent while serving as a natural décor.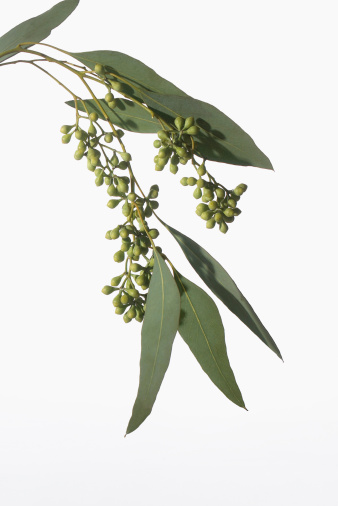 Photo: Getty Images
With these methods to improve the smell of your home, you can never go wrong.  Create a clean-smelling atmosphere for everyone to enjoy!
If you enjoyed how to make your house smell fresh article, you might also like: